Warning: May be an image heavy post.
I looked up images of real dormice and it occurred to me that none of the versions of Alice in Wonderland have accurate looking dormice. All of the Dormouse characters either look like regular mice or...something else.
Here are some real dormice:
Cute, aren't they?
Now here are some comparisons to some Alice in Wonderland Dormice:
Disney:
He obviously resembles a normal mouse much more than an actual dormouse. He doesn't have the chubby-ness of a dormouse and his body is drawn different than how it should be. Also, at certain parts of the movie, you can notice his tail. On real dormice, the tail is bushy, similar to a squirrel. Dormy here has a thin tail like that of a regular mouse.
Tim Burton:
Here, it seems like they're trying a bit harder. She doesn't look like just any ordinary mouse like the Disney version did. However, she still isn't chubby like real dormice (though this is probably so she's more capable of all the action she handles in the movie) and judging by the picture, her tail seems a bit accurate, though it still isn't very bushy. I remember it looking more mouse-like in certain shots in the movie and video game.
Hallmark:
Again, seems like they tried harder. I used to think he looked more like a hamster and my friend thought he looked like a gopher (Than again, I wouldn't trust this company to make me accurate animal puppets. Their March Hare looks like a donkey!). You can see by the images of real dormice above that real dormice resemble hamsters. Actually, the only real problem with this one is, again, the tail (this is going to show up a lot). You can see it in a shot when Hatter and Hare pick him up to move him. It looks more rat-like.
American McGee's Alice/ Alice: Madness Returns:
The one from Alice: Madness Returns is my personal favorite because of how delightfully mad he is, but that's beside the point.
Though these two look different, they are supposed to be the same Dormouse (those who know about the games would understand why the drastic change in appearance from the first game to the second). In both games, he obviously looks more rat/mouse-like. Is it just me, or does it seem like the one from American McGee's Alice (the first image of these two) would have a better chance at passing as a real dormouse than the one from Madness Returns? Again, there's the tail. Though it's mostly put together by pipes, you can tell by the still organic parts that it's much more like a rat's tail, all pink and slippery. Though in Madness Returns, there is a flashback showing Dormy while he was still fully organic and he looks very chubby, like an actual dormouse. That tail is still an issue, though.
At first, it seems like typical Disney didn't get their animal facts right or tried too hard to make their Dormy cartoony, but looking at some other versions, it doesn't seem like anybody got it right. Hallmark came close, though he still looks more like a hamster/gopher. There are other versions I've seen and haven't posted here, mostly lesser known animated versions of Alice in Wonderland that I didn't feel like fetching pictures of. They all look like mice/rats, just grant that. And then there's Dreamchild, who's Dormouse looks like....well...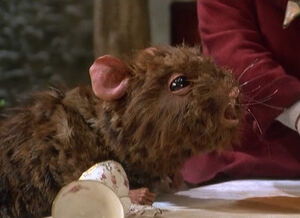 ....Yeah.
Did any director ever get it right?