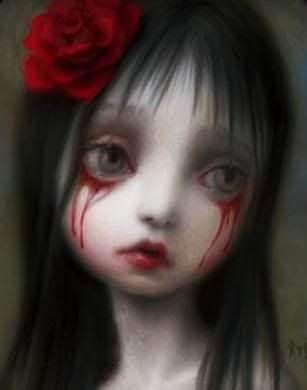 Once I sang for mother's
company
...the specific tune I
can't recall?
They admired my vibrato,
...as livers were doused in
alcohol.

"Greyhounds running,
clean cups,
...clean cups, move down
one chair!"
Nonsensical stories of
treacle wells,
...smoke rings lingering
in the air.

I made a daisy chain for
her
...within each link a sad
refrain.
Memories of days gone
by,
...petals scattered by
stinging rain.

I'd lost her many years
before
...it wasn't a specific day.
She'd tumbled down the
deepest hole,
...I knew she'd forever
gone away.

'Twas not the hookah, the
shrooms
...or even the
"White Rabbit".
The syringe that said
"Geeze Me"
...was the final
foreboding habit.

The "C" made her eyes a
yellow glow,
...her playful "Cheshire"
grin had faded.
Sullen cheeks and
thinning hair,
...a rebellious free-spirit so
long ago jaded.

The "Knave" had
tainted her blood and
mind,
...and with it her precious
soul.
Leaving her poisoned and
slightly mad,
...more than just tarts
that he had stole.

Beheaded was the
dear "Duchess",
...her beauty no longer
splendid.
She had simply forgotten to love
herself,
...now her abdomen
became distended.

I'd always known the day
would come
...a call to substantiate
my fears.
To be told abruptly, she'd
awake no more,
...washed me away in a
sea of tears.

I never asked to live
this life,
...yet the
"Looking Glass"
has been my home.
Gyrating and gimbling
in this wabe
...so little mimsy,
a lonely Mome.

I gaze out to the
otherside,
...in hopes the
"Jabberwock"
will take the bait.
Or perhaps the
"White Knight"
will rescue me,
...from this undeserving
fate?

Why did I get left
behind,
...and why can I now
not be set free?
Peering through the
keyhole,
...late for the date, with
the "Queen of Hearts"
who just might've been me.