Book review: "Lewis Carroll – The Worlds of His Alices"
19 June 2019
Edward Guiliano recently published his new book "Lewis Carroll – The Worlds of His Alices". In it, he discusses the works that Lewis Carroll produced throughout his lifetime and what they tell us about his personality and skills.
When I heard about this book and read its description, I didn't really know what to expect. Apparently it wasn't a biography, but an 'analysis'. I wondered what exactly would be analysed and how deep it would dive into all those topics – as the book seemed to cover numerous works, it possibly couldn't be very thorough? And how much focus would there be on the 'Alice' books (which of course I'm interested in most)?
The publishers were kind enough to provide me with a copy, so I was able to write this review for everyone else who is wondering whether they should purchase this book.
Before I dive into its contents, let me first say that the book is very easy to read. In stead of drearily listing facts, Guiliano succeeds in presenting all the information in an accessible way that doesn't make you feel like you are studying. I went through the book much quicker than I thought I would. It also helps that the page layout is pleasant: the font is easy on the eyes and the paper is bright and well chosen. As a book is of no use without pictures, several illustrations and photographs can be found throughout the pages at irregular intervals.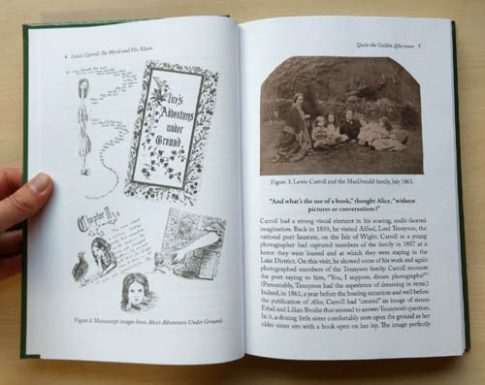 Guiliano, a long time Carroll scholar and founding member / former president of the Lewis Carroll Society of North America, often quotes from the works of other scholars to paint an even better picture, or to support his own words.
Although the content of the book is well researched, I spotted several errors. I don't think the author is to blame for this though – they seem to be editorial mistakes. For example, the caption beneath Cameron's photograph of 'Alice as Pomona' states its date as 1862 in stead of 1872. The italics in the quote "For the Snark was a Boojum, you see" are wrong, and note 68 should refer to page 167, not 106-7. And although the book is subtitled "The Worlds of His Alices", the headings of the pages actually read "The World and His Alices". But these are minor issues and don't take away any of the value of the book.
As some titles of the chapters only really made sense to me after I delved into their contents, I will provide a chapter by chapter description of their topic(s):
Chapter 1: A general introduction of how "Alice's Adventures in Wonderland" came about.
Chapter 2: A discussion of Carroll's activities before the publication of the 'Alice' books. It mainly deals with his photography hobby.
Chapter 3: The most biographical section of the book, focused on Carroll's personality and the apparent discrepancies in his character, and how this retains our interest in him.
Chapter 4: A continuation of chapter 3, but focused on the speculations around his pedophilia and drug use, his diaries and his changed relationship with the Liddell family.
Chapter 5: This chapter defines the place of the book "Alice's Adventures in Wonderland" in literature history, and describes its appeal to children and adults, the illustrations and how those work together with the text, and the features and motifs in the story.
Chapter 6: Compares "Through the Looking Glass and what Alice found there" with "Alice's Adventures in Wonderland" (like Alice's different mood and appearance, and how the story developed very differently). Several poems are looked at in more detail, and story characteristics as well as the abandoned chapter 'A wasp in a wig' are discussed.
Chapter 7: A discussion of "The Hunting of the Snark": the reception and interpretation of the poem, its supposed origins in Carroll's personal anxiety and personal themes like fear of dying, existential dread and the need for order.
Chapter 8: A description of Carroll's other works, including poems, mathematical and logical works, games and puzzles, "Sylvie and Bruno", and other versions of his 'Alice' tales like the facsimile of "Alice's Adventures Under Ground" and "Nursery Alice".
Chapter 9: About the popularity of Carroll's works after his death: famous quotes, the reasons behind their persistent popularity, and adaptations by others.
Additionally, the book also contains a short chronological overview of important events in Carroll's life and a bibliography of his works. Also included are lists of relevant publications from other authors about Carroll or his works, like biographies and analyses and criticism.
Guiliano doesn't offer his own analysis of the meaning of, or covert references in, any of Lewis Carroll works. What he does do is provide a very comprehensive overview of all of Carroll's writings and his life. All topics that are covered in the book are discussed quite briefly, not in-depth, but still there's a wealth of information between the covers, which is very well organized, nicely presented, and easy to digest.
Having read all of it, I have come to the conclusion that this book is a sort of mixture between a biography and a book discussion. The biography is formed step-by-step by presenting several facts about Carroll's life, supplemented with personality traits and skills that are being derived from an analysis of what he wrote, how he wrote, and how he handled the publication processes and their aftermath.
So, who should read this book? To people who have already studied Carroll and his works thoroughly, the book won't provide many new facts or insights. For people not aiming to dive deep into the subject and who are just looking for a quick general understanding of the man who wrote the 'Alice' books, it may be too much information. I think the book is mainly suitable for people who are already somewhat familiar with Lewis Carroll and one or more of his tales and poems, but want to read more about him. It is also suitable for people who are quite new to the subject but want to update themselves in a short amount of time, as this book is a very efficient way to get an overall idea of the man behind the famous masterworks.
All in all, I recommend this book to both general readers and 'fans' who want to get to know Lewis Carroll better by means of his writings.
If you are interested in acquiring a copy yourself: the book is available on Amazon.com as hardcover. If you are from the UK and/or prefer an eBook, you can order it here.